Spotify now has more than "250 million listeners across more than 75 countries worldwide," and is one of the top podcast directories to add your show. 
Below, we've provided step-by-step instructions so you can easily add your podcast to Spotify.  
Ready? Then let's get started!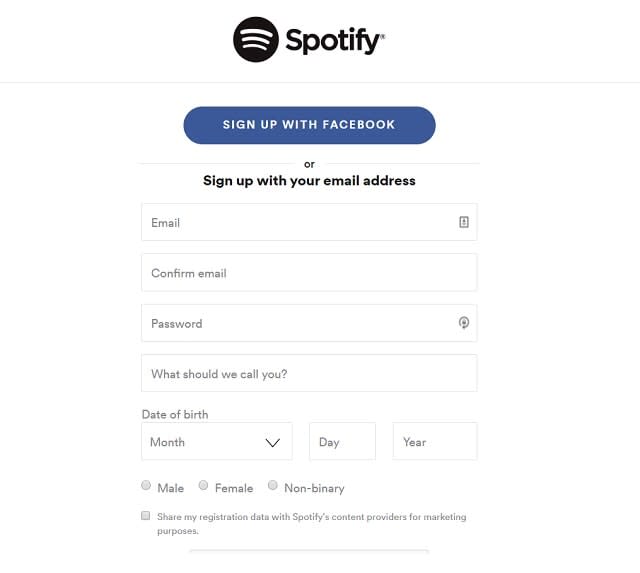 How to Upload Your Podcast to Spotify
Step 1. You'll start by creating a free account with Spotify. We recommend using the same email you use with your podcast host so that you can avoid any errors with uploading your show. 
Step 2. Click "Get Started", then paste in the link to your podcast's RSS feed. 
If you are using RSS.com Podcasting as your podcast host, your show's RSS feed can be found on your "My Podcast" page. 
Simply click the "RSS Feed" button underneath your show's description and it will copy your feed to your clipboard. 
From there, you can simply paste your RSS feed into Spotify.
Step 3. Add your podcast's details like the category, language, and country.
Step 4. Review the details and submit.
Easy right? 🙌
Are You Receiving Errors When Submitting Your Podcast to Spotify?
Sometime users will receive an error message in Spotify when trying to add their podcast's RSS feed.
Below are two of the most common errors and how to fix them: 
1. Your podcast needs a globally unique identifier (GUID)
This means that your podcast feed is empty because you haven't uploaded an episode to your podcast host. Until you do, Spotify won't be able to find any episodes and will reject your show's RSS feed.
After you upload the first episode, you can then resubmit your podcast's RSS feed here, and you should be good to go.
2. Your podcast RSS feed is missing an email address/your email needs to be verified
You need an email address associated with your RSS feed which is pulled from the RSS feed for your podcast. Spotify relies on email verification to ensure you're the owner of your podcast. 
If the email address to verify your podcast is wrong, you'll need to update the email address with your podcast host.
How Long Until Your Show is Live on Spotify?
Now that you know how to upload a podcast to Spotify, and how to troubleshoot any errors you may get, you're probably wondering how long it will be until your show is live. 
Many shows are live within just a few hours, but it could take up t0 five days to appear. 
Unfortunately, as of the time of this writing, it doesn't appear that Spotify emails you to let you know that the podcast is live. So, you'll need to keep checking Spotify to see when your show is live.
Here are easy to follow, step-by-step guides on how to submit your show to other major podcast directories:
Are You a Visual Learner?
Check out the video below for a visual walk through on how to get your podcast on Spotify.