You're sitting there thinking, how the heck do people get to have their podcast on Spotify? They even brag about it "My podcast is on Spotify."
I will show you how you can submit your podcast to Spotify so you too can be ON one of the biggest podcast platforms and brag about it as well.
In this post, you'll learn:
How to submit your podcast to Spotify 
The perks of having your podcast on Spotify and other major platforms
How to avoid getting your podcast removed from Spotify
Where to find royalty-free music for your show
Here's How to Submit Your Podcast to Spotify
Once you have the audio files of your podcast episodes edited, the next step is to upload them to a podcast hosting site – you don't directly upload your podcast to Spotify.
You will need a podcast hosting site to store your episodes and to distribute your show to the major podcast directories like Spotify, Apple Podcasts, etc. 
Setting up automatic distribution of your episodes to Spotify is super easy and you can do it for free in only a few minutes using RSS.com.
Click here to set up a free RSS.com account.
To create an account with RSS.com, you'll need to enter your email address and set your password.
You can get started with this step for free with no credit card information needed.
Once you have chosen a password, click get started for free.
You'll get an email to validate your account with RSS.com with a six-digit code.
The next step is to click new podcast.
This will take you to a new page where you'll enter your podcast title and description and upload your podcast cover art.
Need help creating engaging podcast cover art? Canva.com has hundreds of podcast templates you can use for your show. 
Now you can upload the audio files of your trailer and episodes.
You are now ready to set up the automatic distribution of your podcast to Spotify.
The awesome part is you'll only have to go through this process ONCE.
Once your podcast has been synched, every time you upload a new episode, RSS.com will automatically distribute the episode to Spotify and other top directories. Cool right?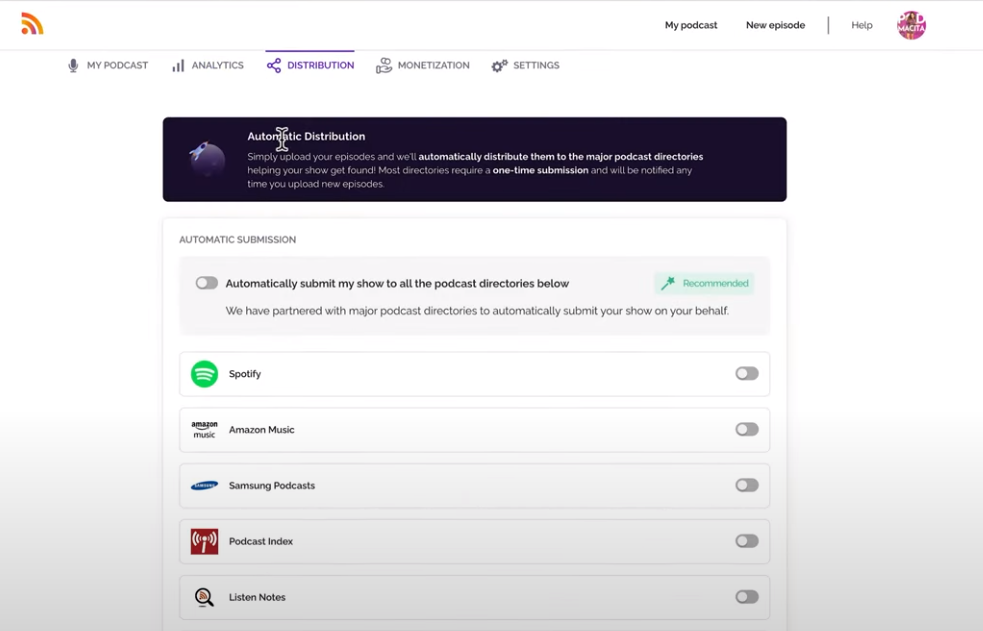 All you have to do is click on the Distribution tab on top of your dashboard and select the button next to where it says "Automatically submit my show to all the podcast directories below."
🎉 Congrats! Now your podcast and episodes will automatically appear on Spotify, Amazon Music, Samsung Podcasts and more.
Now let's take a look at all the opportunities you just unlocked by submitting your podcast to Spotify.
Along with Apple Podcasts, Spotify is one of the largest podcast directories in the world, with thirty-six million podcast listeners and counting.
Spotify also offers a user-friendly interface and robust recommendation algorithms and is always innovating and releasing new features so users can find new shows easily.
For example, Spotify just released a new feature allowing users to swipe vertically through show recommendations that play automatically, very much like TikTok or Instagram Reels.
The good thing is that users don't only get recommendations from podcasts they follow.
They also get recommendations from podcasts in the same genre or with similar content or audiences.
What does this mean for you as a podcaster?
It means that if your podcast is on Spotify, it will be recommended to people among those thirty-six million avid podcast listeners and you can get a piece of that delicious pie with fresh new listeners by distributing your podcast to Spotify.
Another perk about having your podcast on Spotify and other major platforms is that you'll give your listeners options to listen to your show from their platform of choice.
The more accessible you can make your podcast on different podcast directories, the more you'll see your audience grow. 📈
💥 Here's the Number One Rule You Need to Follow Before Uploading Your Podcast to Spotify
Before you start distributing your podcast to Spotify or any other podcast platform, make sure you're using sound bytes and music you have the rights to use on your podcast.
I know you want to get creative with your podcast branding and audio storytelling and use clips from famous singers or to use mainstream songs to make your podcast more engaging and fun.
And that's okay! Creativity is always encouraged
But before you use music or sound bytes in your podcast it is important that you get familiar with how copyright law works.
Because Spotify is also a music player, they are very strict in protecting the rights of musicians and the music that they create.
If you think that you can get away with using a clip for only a few seconds, you won't because there are advanced AI technologies crawling content on the podcasts directories searching for music that's not licensed. And they will find your podcast.
Even if your podcast is not making money yet, you will still be in violation of copyright laws and Spotify terms and conditions.
The consequences of you using music on your podcast you don't own the rights to range FROM your content being flagged on the platform and getting a not-so-friendly email from Spotify ALL THE WAY TO, worst case scenario, the removal of your episodes and, podcast from the platform and possible legal action and fines.
Imagine Spotify taking down your best performing podcast episode that have been listened to thousands of times because you were not aware of this or decided to ignore the rule.
But don't worry, your girl wouldn't send you to figure out how to get music for your podcast on your own.
🎶 Where to Find Royalty-Free Music for Your Podcast