Odds are you're hearing a lot about ChatGPT and other AI tools available to podcasters.
The image you see above was created using the AI system DALL·E 2 by asking it to create an image of a smiling podcaster speaking into a microphone.
In this post, we're sharing the best AI tools for podcasting and how to use them to become more productive, improve the quality of your show and reach a wider audience. 
What Are AI Tools for Podcasting?
AI tools for podcasting utilize Artificial Intelligence (AI) technology to automate various tasks related to podcast production and distribution.
Here are a few examples of how you can use AI tools for podcasting:
Audio editing: These tools use AI algorithms to perform tasks such as noise reduction, equalization, and compression, helping to improve the quality of the podcast audio.
Speech-to-text transcription: These tools convert spoken words into written text, providing a transcript of the podcast episode.
Voice recognition: These tools can identify and distinguish different speakers in a podcast episode, making it easier to edit and organize the audio.
Content analysis: These tools use AI algorithms to analyze podcast content, identify topics, and suggest related content for future episodes.
Distribution: These tools use AI algorithms to analyze audience data and recommend the best platforms and strategies for reaching a wider audience.
What Are the Best AI Tools for Editing Audio?
Descript is an all-in-one Audio/Video editing tool best known for being able to automatically "fix" your episode audio by reducing background noise and echoes and adjusting your audio levels to sound crisp.
What Descript does well: 
Overdub: Allows you to "clone" your own voice so you can fix audio errors if you misspeak or forget to say something such as a sponsor name
Filler Word Removal: Just like it sounds, this feature removes the filler words automatically from your audio including "um," "uh," "you know," etc. Cool right?
Transcription: Generates automated transcripts of your episode audio that you can add to improve accessibility, shareability, and help increase visibility of your episodes in search engines.
Podcast clips

: Share snippets of your episodes in the wild. With Descript, you can quickly clip key points and export them to your website and social media channels.

Transcript combination

: Descript combines transcripts from different tracks into a single transcript with dynamically inserted speaker labels.

Automatic room tone generation

: Long silences are awkward, even to listeners. Descript fills in gaps with a room tone generated from your recordings.

Live editing

: Edit your audio in real-time. Descript starts transcribing the second you click recording.
Podcastle is another recording and editing tool that utilizes AI to help you create professional quality episodes.
Podcastle turns your raw clips into polished episodes with a few clicks. Notable features include Revoice, which "clones" your own voice and also "Text to Speech" that allows you to take any text and have one of their 20 plus AI avatars read it aloud.
What Podcastle does well:
Revoice: Create an audio clip of your own voice by typing out your content. All you need to do is record yourself reading sentences, and Podcastle will process it into your "personal voice skin." With this feature, you can turn any text into a podcast.
Quick-clicks editor: Editing shouldn't take hours of your time. Podcastle helps you split, trim, fade your audio files, and more in just a few clicks of the button.
Automatic audio transcription: Skip hiring a professional to transcribe your podcast. Podcastle transcribes your episodes in real-time (note: Podcastle caps transcription at 25 hours for its most premium plan. If you want unlimited transcription, consider using RSS.com which auto-generates unlimited transcripts for new and existing episodes.
3. Adobe Podcast (Adobe users)
Adobe Podcast (formerly known as Project Shasta) is a beginner-friendly platform that enhances your podcasts with a zero learning curve. Use it together with its sister tools (e.g., Premiere Pro) for the best results.
What it does well:
Audio editor: It's easier to edit a word doc than an audio clip. Adobe Podcast effortlessly edits your audio via transcripts, thanks to the speech-to-text technology in Adobe Premiere Pro.
Background noise removal: Upload any audio file and let Adobe remove the background noise and sharpen your voice frequencies within seconds.
AI mic check: Get started on the right foot. Adobe recommends how to improve your mic setup with an easy-to-understand visual.
4. Cleanvoice AI (filler sounds removal)
Sound confident even when you weren't in recording. Cleanvoice AI eliminates your least favorite fillers and turns you into an electrifying speaker.
What Cleanvoice does well:
Word and sounds remover: Fillers leave an unprofessional impression. Cleanvoice AI removes filler words, lengthy silences, stuttering, clicking, and lip-smacking with a click. You can also edit multiple tracks while keeping everything in sync.
Multilingual: Cleanvoice AI removes filler sounds in multiple languages (e.g., German, French) and accents like Irish and Australian.
💰 Pricing: Free trial with 30 minutes of credit. Paid plans begin at €10 for 10 hours (subscription) or five hours (pay as you go).
Verbatik turns your text into lifelike voices. Not only does this unique AI podcasting tool customize every voice's speed, but it also adjusts the pitch, volume, and pronunciation.
What Verbatik does well:
AI voices in multi-language: Verbatik boasts a library of more than 600 AI text-to-speech voices across 142 languages and accents.
SSML-supported: Verbatik helps you customize the rate, pitch, volume and pronunciations of your AI voices. You can add pauses for a natural speaking tone, adjust the pitch higher or lower, or even speed up or slow down the speed. You can even save them as custom pronunciations to reuse them in future.
💰 Pricing: Starts free, with paid plans beginning at $4/month.
Otter automates your podcast transcripts. Descript also offers this feature, but we feel Otter is the better option as it's more accurate. Otter also offers live captions for Zoom meetings with their business plan.
Otter tutorials:
AI Podcast Tools for Marketing
It's going to take more than social media shares to really grow your listener base!
Use these AI tools to help amplify and promote your show.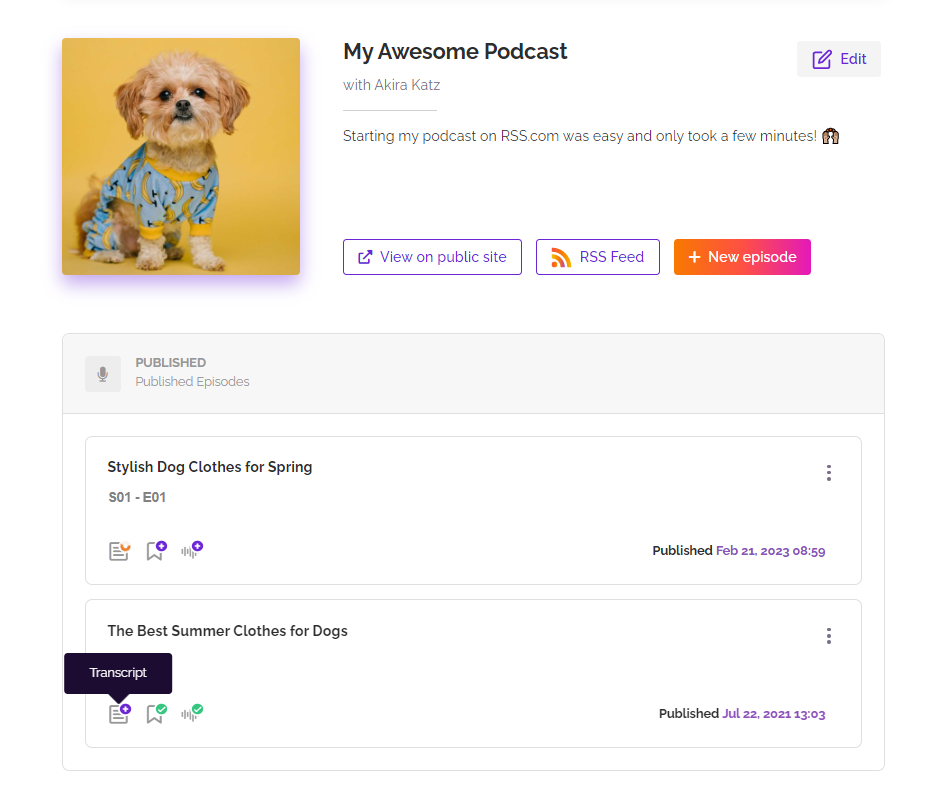 RSS.com automatically transcribes all of your episodes using AI powered technology.
Here are the reasons why podcasters should transcribe their episodes:
Enhancing accessibility: Transcribing your podcast episodes ensures that people who are deaf or hard of hearing can enjoy your episodes.
Boosting search engine visibility: Transcripts provide search engines with text to crawl and index, increasing the likelihood of your episodes will appear in Google Search results and reach more listeners.
Repurposing content: Transcripts can be repurposed into blog posts and social media content.
Improving editing: Having a transcript as a point of reference during editing can help you identify and address areas in your show that may need improvement
Increased engagement: By providing episode transcripts, you allow your listeners to follow along and take notes, boosting engagement and encouraging active participation.
ChatGPT is a powerful tool that you can use to assist with your podcast promotions. 
Here are just a few examples of ways you can use ChatGPT to promote your podcast:
Have ChatGPT review your podcast transcripts from RSS.com to be used as blog posts
Create a series of social media shares for Twitter, Instagram, Facebook and YouTube
Take your episode transcript and create an email newsletter 
3. Deciphr AI (time stamps and show notes)
Decipher AI is an ingenious tool that automatically selects the most important points in your podcast episodes and turns them into time stamps.
What Decipher AI does well:
Summarizer: Decipher scans through your audio or transcript to surface key topics into time stamps. This eliminates the effort of listening to every episode and digging through every single key takeaway.
Fathom is an iPhone app that draws more eyes to your podcast. Its best feature is the question-answer search. When listeners ask questions, it finds answers from inside your episodes and surfaces them in the results page. 
What Fathom does well: 
AI-powered highlights: Fathom plays previews of your episodes to new and existing listeners. It also automatically creates relevant chapters based on the content and topics inside every episode (tip: if you're not using an iPhone, create your chapters and soundbites on RSS.com. It takes only a few clicks). 
Episode search: It's impossible to pack all key topics from an episode into a title. Luckily for you, when listeners ask questions, Fathom will find answers from inside your episodes and show them in the results page.
Melville takes care of all your content needs, from keywords and titles to episode summaries and time stamped key points.
What it does well:
One-page summary: Melville scans through your episodes and distills everything into an editable summary, quotes, keywords, outline, and more.
Suggestions: Don't like the title? Melville recommends other options. You can also do the same for other elements (e.g., summary, quotes)