Imagine for a moment launching a business with a partner you've never actually met in real life. Now imagine doing it as a passion project while maintaining a full-time job. That's exactly how the co-founders of our podcast hosting company started. Alberto Betella and Benjamin Richardson built and launched RSS.com from two different continents without meeting in person for three full years. Below is our company's origin story.
It All Started with an Idea 💡
In 2005, while Alberto was at the Italian University of Bergamo, he started working on a software that would allow teachers to share their classes as podcast episodes for students to listen to and refer back to. He decided to distribute his work using an open source license and call it Podcast Generator (PG), a web-based podcast publishing platform that allowed anyone in the world to download and use it. After its launch in April of 2006, a full year before the launch of iTunes U, hundreds of organizations and institutions all over the world started to use PG.
Alberto actively developed and maintained this free software on his own for more than 13 years. During that time, he received and responded to hundreds of support and feature requests which gave him insight into what podcasters really need. He was also realizing that PG could become much better and more powerful if it was moved to the cloud and offered at scale.
In 2019 he delegated development and maintenance of PG to the open source community and still maintains a role of stakeholder in the project.
Fast forward to December 2020, and PG has been downloaded more than one million times, and still powers tens of thousands of active shows.
Meanwhile on the Other Side of the World ...
Throughout the 90s and 2000s, Ben was learning a lot about running a company. He started his first business, Aztex Sharpening in 1996 after seeing an older gentleman in the streets of Teramo, Italy sharpening a set of scissors.  Reality soon set in, however, when the neighbors in his South Texas neighborhood chose to sharpen their knives the old fashioned way (fancy old can-openers all came with a sharpening stone).
Ben's next endeavor was a pressure washing business in South Texas that he grew and ultimately sold to focus on completing a business degree in entrepreneurship at Brigham Young University.
Ben attended BYU during the middle of the dot com bubble. Of all the great things he learned in business school, two of particular note sunk in deeply: a fellow student had purchased an internet domain (windows.com) and sold it to Microsoft for a reported one million dollars; and concurrently, another student at the university had secured the rights to a phone number that he was using to sell contact lenses (1-800-Contacts). Inspired by his fellow students success, he started looking for a domain of his own to purchase and flip into a healthy profit.
A stroke of luck and serendipity struck when the domain RSS.com became available and Ben jumped at the opportunity to acquire it in June 2013. At the time, Google Reader (the world's largest RSS feed reader) was shutting down, and as a result, was creating a new ecosystem of paid RSS feed readers. Ben rolled up his sleeves, and took on the challenge of finding a developer to help him build an RSS Feed Reader product on RSS.com.
Ben managed all the customer interactions on the site and had several great ideas for improving both the product and experience. For example, Ben's idea for giving every customer an @rss.com email address that could ingest email newsletters and parse them as if they were RSS feed items turned out to be quite useful, and later adopted more broadly in feed readers.
Over time, however, it became clear that greater market factors were going to dictate the success or failure of RSS readers. Social sites like Facebook developed "feeds" that allowed, then encouraged, then propagated news within a user's profile feed. Essentially social media took over and improved the feed reader experience with items curated by friends or algorithms.
Eventually in mid 2016 Facebook, which started out as a microblogging site with interconnected RSS feeds, terminated its RSS notifications feed. The writing seemed to be on the wall for the wider abandonment of RSS feeds in the public space.
Interestingly enough however, it was around this time there was a massive uptick in Google searches for phrases like "podcast RSS feed."
A Partnership is Forged 🤝
As podcasting started to grow in popularity, Ben realized that his domain had the potential to be a space for podcasts to be played or created. With that in mind, in July of 2017 Ben began looking for a partner to shift the focus of the domain and develop something amazing. Because the Podcast Generator open source software was still making waves online, it didn't take long for Alberto to come up in Ben's quest for a partner.
One email from Ben to Alberto later, and the two began to explore the possibility of leveraging the domain RSS.com and the technology of Podcast Generator to offer a fully-managed podcast hosting service. The two quickly went to work evaluating interest, and what they learned showed a clear market appetite for a podcast hosting platform.
RSS.com Podcasting is Born
On January 29, 2018 the first version of RSS.com rolled out. Though the first version was basic, it proved to be a solid product-market fit. Over the next year and a half, Alberto and Ben built it up to the point that a new cloud infrastructure and a more modern technology stack was needed to cope with the increasing traffic.
From August 2018 to August 2019, RSS.com grew over 14,000% (fourteen thousands percent!) in users and MRR!
Due to the need to scale up, and the increased resources to grow the team, in summer 2019, Alberto and Ben started working on a brand new version of RSS.com, completely redesigned and re-architected from the inside out. The new version would move to a new cloud infrastructure leveraging state-of-the-art storage and computation services, as well as a content distribution network. Then, on January 16, 2020, the new version of the RSS.com platform was launched.
Over the next 12 months of 2020, Alberto and Ben, along with their team of programmers, engineers, content creators and marketing gurus, continued updating and refining the podcasting platform.
Alberto writes a web-based software for his university in Italy (university of Bergamo) to allow the creation of Educational Podcasts where teachers could share their classes as podcast episodes for their students.
Alberto Launches Podcast Generator
Alberto released his web-based podcast publishing software under the name of Podcast Generator (PG) and released it under an open source license, which allowed anyone around the world to download and use it.
Alberto Participates in the First Podcasting Events
In the same year (2006), Alberto started to get involved in the local podcasting scene by participating in the first "podcasting day" in Italy in May 2006 and later in other European events, such as the first Podcasting Day in Barcelona (Spain) in October 2006, where he was invited to present Podcast Generator.
Podcast Generator is Used by Hundreds of Organizations​
In only a few months after the launch of Podcast Generator (PG), hundreds of organizations and institutions all over the world started to use PG to offer their services including:
University of Aarhus in Denmark
University of Delaware
BBC
University of Virginia
Ohio State University
University of Málaga
And many more!
Podcast Generator is Presented Worldwide
The story of Podcast Generator is presented in conferences and events all around the word, from Beijing to Rio de Janeiro.
Ben Acquires the RSS.com Domain
Ben Reaches out to Alberto and a Partnership Is Formed
The First Version of RSS.com is Launched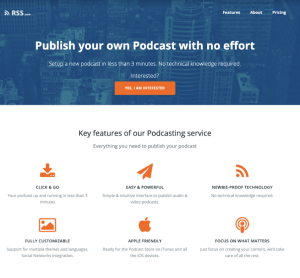 Alberto Delegates Development and Maintenance of Podcast Generator to the Open Source Community​
A New Version of the RSS.com Platform is Launched
RSS.com Introduces Monetization Options for Subscribers
RSS.com Releases Podcast Analytics

2020 Was a Record Year for RSS.com. Highlights Include:​
New Company design and branding
New web platform and infrastructure
New Analytics service launched
Switched to freemium payment model
Launched in the Spanish and Italian-speaking markets
Active support of Podcast Index to preserve podcasting as a platform for free speech
+308% growth in Net volume from sales compared to 2019
+150% growth in Subscribers compared to 2019
+1,180% in new Sign Ups compared to 2019
Over 1,200 improvements, fixes and features successfully rolled out
Alberto Joins RSS.com Full-Time
Co-founder, Alberto Betella joins RSS.com full-time.
Ben & Alberto Meet For First Time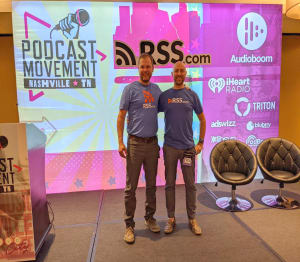 After three years of building RSS.com working on different continents, Ben and Alberto meet for the first time at Podcast Movement 2021.
The medium of podcasting is still only in its infancy. Like RSS.com, it too will continue to grow and evolve.
The format that people consume content is slowly shifting away from written to visual and audio – this is precisely why podcasting is witnessing an unprecedented growth in popularity. In addition, the possibility of accessing content anytime, anywhere makes podcasting one of the most attractive content formats both now and in the years to come.
If you are thinking about starting a business of your own, take Alberto's advice:
Do not fear risk! It's better to say 'whoops' than 'what if?'
Podcasting is the only way you (a host) can sit down at someone's kitchen table and talk while they do the dishes, can run beside them on their morning jog, can lift their spirits on a lonely bus ride, or can share a sad story to a listening ear. Podcasting and the way it can connect on the individual level is powerful in how it can affect the listener and the speaker in a truly timeless and human manner.
With that said, if you are thinking about launching a podcast, we leave you with this question:
What are you waiting for?